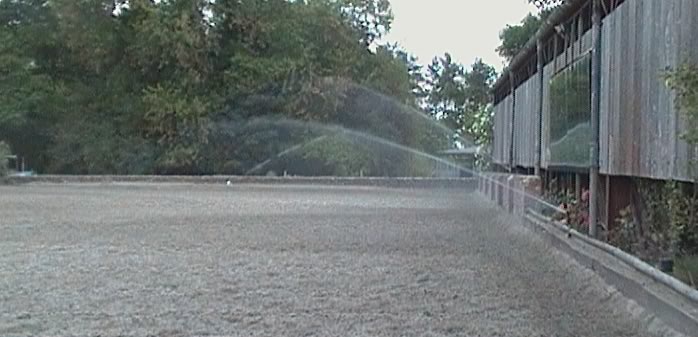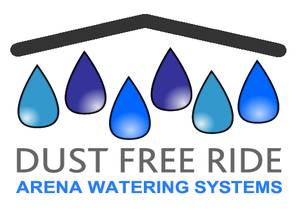 Don't let your horse inhale dust!
If you own a covered school, training track or outdoor arena don't allow dust to harm the health of your horse; install a DUST FREE RIDE WATERING SYSTEM.
With over 1000 systems installed in the UK and abroad we have the experience to solve all dust problems. Our systems are suitable for any size and shape of building or arena, are easy to operate and require minimal maintenance. Click here to see some of our satisfied customers.
The value of a well maintained dust free riding area is well documented. Unfortunately, many products currently available are complicated and expensive but after lengthy research we have developed a watering system that addresses these technical and financial problems.
To illustrate the practicality of the Dust Free Ride System we have indoor and outdoor systems available for inspection and demonstration at Sheepcote. We also have systems installed around the country.
For more information on Indoor Equestrian Arena Watering Systems, click here
For more information on Outdoor Equestrian Arena Watering System, click here
Why should you ensure your equestrian arena is well watered?
The advantage of dust control in riding facilities are numerous and important. A dust free environment is healthier for both horses and riders. The most cost effective solution to control dust is the installation of a watering system.

Riding over a dry surface is not only harmful to horse and rider but is also a major contributing factor to early disintegration of the arena. A dry surface quickly becomes "powdery" and the hooves of the horse begin to make contact with the base, causing it to break down. For this reason, installers of riding surfaces recommend maintaining the correct level of moisture in the surface both indoors and outdoors. When water is applied to the arena the sand particles swell, absorb the water and become minute flexible cushions. The "cushions" bind to each other and absorb some of the energy from the impact made from the hooves. The result is that the horse has a better footing, there is less concussion on the legs and the arena base is protected.

Installing a watering system is not just a plumbing job. The understanding and knowledge of different surface characteristics is very important. For example, white silica sand requires large quantities of water for optimum ride and sprinklers with heavy droplets are best for this surface. Older, finer surfaces require gentle application of water and a different kind of sprinkler.

At Sheepcote Equestrian we have accumulated years of experience and the knowledge of installing the best and most suitable equipment for the irrigation of riding surfaces.

For more information about Dust Free Ride Watering Systems:
Telephone +44 (0)1432 850396
Email info@sheepcote.co.uk