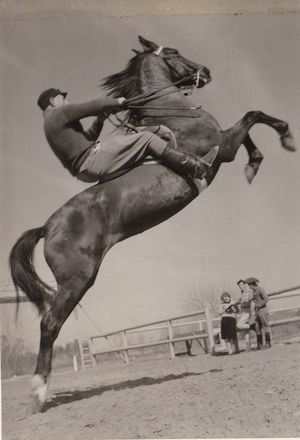 Sheepcote Equestrian is located in the beautiful village of Bartestree, near Hereford and was set up in 1980 when David Pincus, former pupil of the Spanish Riding School and Dr Reiner Klimke, moved to England to build his career as a dressage rider and trainer.
Sheepcote is run by David and his wife Serena and is currently a stable of approximately 50 horses with a staff of enthusiastic and capable working pupils. There are around 25 horses in training at any one time, ranging from horses just backed to horses competing at Grand Prix level. As well as being a world renown training establishment, Sheepcote is also a centre of breeding excellence and has produced a consistent string of successful competition horses.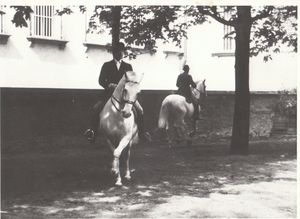 David Pincus began to ride as a child under the instruction of a former colleague of Captain Edy Goldman. When David was 13 years old he had the good fortune to ride with Leopold Brustein, a former Russian cavalry officer and Certified Riding Master, who had been a pupil of James Fillis, the celebrated maestro of Haute Ecole and Director of the Imperial Cavalry School in Russia.

When David was 22 years old he came to England and attended Crabbet Park where, within one month, he passed his BHSAI examination. Following this, he went to work with an Irish dealer where he gained experience in show jumping and eventing and was able to have lessons from some of the country's leading instructors including Robert Hall and Pat Manning. He attended a course in Wahrendorf then returned to England to pass his BHSI before travelling back to Germany to spend time with Herr von Neindorf at Karlsruhe. In 1973 David also gained a diploma in horse breeding from Newmarket School of Stud Management and has since furthered his experience and obtained qualifications in modern stud techniques.
David moved to Austria for further training and experience, following which, he took a job as an instructor on the outskirts of Vienna where he was able to access tuition from some of the riders from the Spanish Riding School. During this time he managed to fit in a two month long course with the Cadre Noir at Saumur, France.

Upon his return to Vienna David was paid a visit by Colonel Albrecht, the Director of the Spanish Riding School, who was accompanying the owner of two horses that were being schooled by David. Colonel Albrecht was so impressed by the progress of the horses that he offered him a place at the Spanish Riding School.

After leaving the Spanish Riding School David worked and trained in Austria for another year before heading back to Karlsruhe for further training.
He then moved to the Westphalian State Riding and Driving School in Munster, under Herr Stecken. At this time the legendary Dr Reiner Klimke was looking for someone to help work his horses. Herr Stecken recommended David and after watching him ride, Klimke offered him the job.
This was an exceptional opportunity and during his time with Klimke David worked his young horses and was also allowed to ride his competition horses. David later declined the suggestion that he should remain in Germany and instead decided to set up is own training establishment.
In November 1980 he moved to Sheepcote Stables to begin building his own career and to carry out his primary objective of training horses and riders for dressage.
David has successfully competed at International Big Tour level and has trained riders to International Big Tour including World Championships and the Olympic Games. He is still actively competing at the highest level and has produced and ridden more than ten horses to Grand Prix. Some of David's horses also perform the High School movements.

Serena Pincus is a highly experienced competition rider and has won several National Championship titles on her home bred horses. Apart from training with David, Serena worked and trained in Germany with Margit Otto Crepin the European and Olympic Champion.
She enjoys teaching pupils of all levels and specialises in coaching the dressage U21's.
Many of Serena's students are successful at National Championship level and she has also achieved success in training pupils to advanced level eventing.
Serena and David are available for private or group tuition at Sheepcote Equestrian Centre. Please see the
paying students
page for more details. In addition to teaching from their home base they often run clinics at various locations around the country. Please see the
Dressage Clinics
page for more details.
For further information about services at Sheepcote:
Telephone +44 (0)1432 850396
Email info@sheepcote.co.uk