We would like to introduce you to some of the horses that have been trained and competed by Lucy, Serena and David Pincus. Many of our horses have been competed or bought by students and there are currently 40 Sheepcote horses registered with British Dressage.
Tiny Sally Shetland
Sally Shetland may only be 36 inches high but she is currently learning to piaffe! Here she is wowing the crowds at Carl Hester's One On One at Fifty evening. Photographs courtesy of DaydreamEquineArt

Prior to 2011 she had been shown in-hand at local village shows and was not ridden. This year she decided
she was going to learn dressage and started training in June 2011.
She has aspirations of competing at the National Championships!

See video of Sally Shetland below and watch out for more videos soon!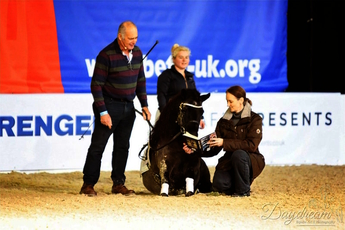 Click image to enlarge
Videos