Keep up to date with the latest news and results from Sheepcote.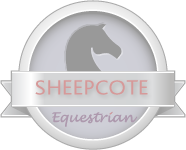 Winter Championship 2013
Pet plan Advanced medium championship
Beth Barnett was second on her own Sheepcote Delight in the Pet plan asvanced medium with a score of 67.35% but the judges just couldn't separate the third placed riders. Izzy Laurence and Ballebo and Susie Cullen on Wind Dance had to share the spoils on 66.76%.
Baileys Horse Feeds Novice Open Music Freestyle
Herefordshire dressage rider Lucy Pincus (17) and her father David's Don Calisto, a home-bred seven-year-old gelding by Don Schufro, posted a whopping 76.57% to take the Baileys Horse Feeds Open Music Freestyle ahead of 17 other national finalists.

"I'm really pleased. He was more powerful in this test and he's generally more expressive now," said Lucy. "He's good in a show environment however he did nearly buck me off in the arena walk!" she laughed.

Lucy is clearly fond of the horse she has known since the day he was born. "I chose him when he was a foal. I was only ten years old and I liked him purely for his character – he was so friendly – and he's developed into a really good horse."

"We'll build him up through the levels, maybe do juniors, but he's a great long-term prospect."